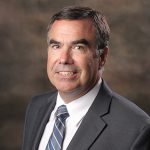 David DePetris
Principal, Legend Properties, Inc.
Last updated: February 26, 2020
Upgrade now to get David DePetris's full contact details!
Website
Office Address
580 W. Germantown Pike #103
Plymouth Meeting PA 19462
Notes
A Licensed Broker-Salesperson and Principal of Legend Properties, Inc., David DePetris has over 19 years experience in retail commercial brokerage. David has an outstanding track record in leasing centers for Landlords and has also been successfully involved in a number of Tenant Representative accounts such as Ace Hardware, Arby's, Moe's Southwest Grill and Great Clips for Hair. David is Office Manager of the Plymouth Meeting Office. He is also a member of the company's Executive Management Team. He is a member of ICSC. Prior to joining Legend Properties, Inc., was a CPA with Ernst and Young and Bowman and Company. David graduated from Villanova University in 1987 with a Bachelor of Science in Accountancy.
Represents