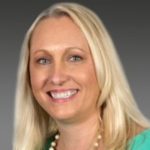 Jennifer Jackson
Vice President of Development, Hungry Howie's Pizza, Inc.
Last updated: March 9, 2020
Upgrade now to get Jennifer Jackson's full contact details!
Website
Office Address
30300 Stephenson Hwy.
Madison Heights MI 48071
Notes
Jennifer Jackson has been involved with Hungry Howie's Pizza since age 10, helping out at stores and at the corporate office during summer vacations. Jennifer officially started as a Hungry Howie's employee in 1998 as the Fundraising Coordinator and was promoted in 2000 to Director of Marketing. In 2005, she was named Director of Marketing & Franchise Development. After taking a brief hiatus to work in various other marketing and franchise positions, Jennifer returned to Hungry Howie's as the Director of Franchise Development. Jennifer restructured the department and qualification process. Additionally, under her management, Jennifer has helped grow the now approaching 600 unit pizza concept focusing with growth in new and emerging markets.
Represents