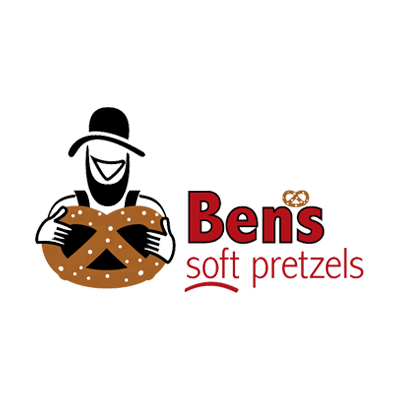 Ben's Soft Pretzels Franchising, Inc.
Actively expanding in all states
About the Company
In 2003, Scott Jones (Ben's Pretzels Co-Founder and CEO) was in Amish Country, Indiana conducting ministry visits with a fellow parishioner. Upon getting lost in the countryside, he was pointed in the direction of the Amish Homestead of Ben and Liz Miller (Ben's Pretzels Co-Founders). Ben and Liz invited Scott into their home to give him proper directions to his destination, warm, fresh cookies, and the start of what would be a life-long, prosperous friendship.
Last updated: March 23, 2020
Current Locations
100
Franchised
HQ Address
2840 Lillian Ave, Elkhart, IN 46514
HQ Phone
(800) 304-5160
Company Email
Website
Expansion Plans
Desired size
700 to 800 sq ft
Preferred Property Types
Regional Mall
Expanding in
Alabama, Alaska, Arizona, Arkansas, California, Colorado, Connecticut, Delaware, Florida, Georgia, Hawaii, Idaho, Illinois, Indiana, Iowa, Kansas, Kentucky, Louisiana, Maine, Maryland, Massachusetts, Michigan, Minnesota, Mississippi, Missouri, Montana, Nebraska, Nevada, New Hampshire, New Jersey, New Mexico, New York, North Carolina, North Dakota, Ohio, Oklahoma, Oregon, Pennsylvania, Rhode Island, South Carolina, South Dakota, Tennessee, Texas, Utah, Vermont, Virginia, Washington, Washington D.C., West Virginia, Wisconsin, Wyoming
Got updates about Ben's Soft Pretzels Franchising, Inc.? Let us know!