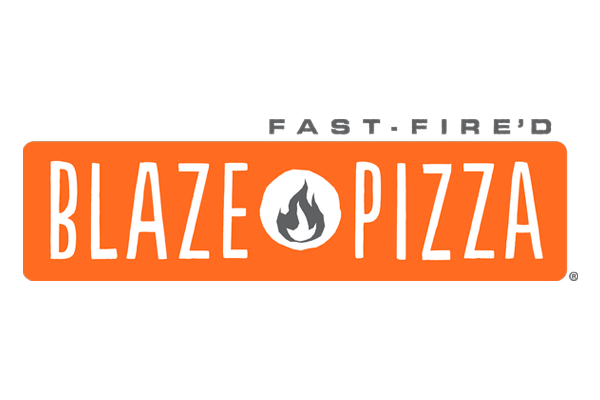 Blaze Fast-Fire'd Pizza
(Blaze Pizza, LLC)
Actively expanding in all states
About the Company
Blaze Fast-Fire'd Pizza serves artisanal quality, custom-built pizzas in under 2 minutes at a very affordable price. Each pizza starts with a perfectly proofed dough into a generous 11-inch personal sized pizza crust. Blaze's menu offers 8 signature pizzas, giving customers a suggested starting point for their perfect pie, making ordering fast and easy. Guests step to the counter and oversee their pizza's construction — Blaze's assembly line format allows guests to customize signature pizzas or create their own from a variety of fresh toppings ranging from inventive (marinated artichokes, gorgonzola, roasted red pepers) to classic with a contemporary twist (ovalini mozzarella, cherry tomatoes, sauce drizzles and dollops). Blaze then sends each pizza to an open-hearth oven to be fast-fire'd. The blazing hot oven, with a three-sided flame, is the key to Blaze's quality and speed of service. Blaze Pizza is "defining a new restaurant category" according to Forbes and was named one of Business Insider's " 5 up-and-coming fast food chains taking over America".
Last updated: March 25, 2020
Current Locations
270
Franchised
HQ Address
35 N. Lake Ave, Pasadena, CA, 91101,
Website
Expansion Plans
Desired size
2,500 to 3,500 sq ft
Frontage
25 feet
12 Month Expansion Plans
2
24 Month Expansion Plans
4
Preferred Property Types
Power Center
Expanding in
Alabama, Alaska, Arizona, Arkansas, California, Colorado, Connecticut, Delaware, Florida, Georgia, Hawaii, Idaho, Illinois, Indiana, Iowa, Kansas, Kentucky, Louisiana, Maine, Maryland, Massachusetts, Michigan, Minnesota, Mississippi, Missouri, Montana, Nebraska, Nevada, New Hampshire, New Jersey, New Mexico, New York, North Carolina, North Dakota, Ohio, Oklahoma, Oregon, Pennsylvania, Rhode Island, South Carolina, South Dakota, Tennessee, Texas, Utah, Vermont, Virginia, Washington, Washington D.C., West Virginia, Wisconsin, Wyoming
Demographic Range
1 miles
Min Population
12,000
Min Income
$75,000
Traffic Count
25,000
Demographic Notes
1 mi radius daytime population: 10,000. 2 mi radius: Population- 50,000; Daytime Population- 35,000; MMH Income- $75k. 3 mi radius: Population- 125,000; Daytime Population- 75,000; MHH Income: $70k. Traffic: 25,000 ADT minimum with a direct view to location.
Preferred Cotenants
Grocery centers, Theatres, Medical Facilities, Educational Facilities, Community Centers and other high quality restaurants.
News Stories