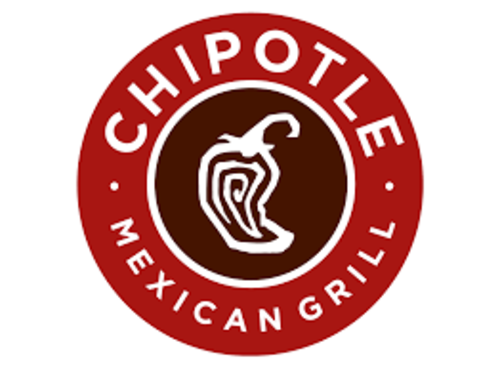 Chipotle Mexican Grill
(Chipotle Mexican Grill, Inc.)
Actively expanding in all states
About the Company
Chipotle Mexican Grill, Inc. is an American chain of fast food restaurants in the United States, United Kingdom, Canada, Germany, and France, specializing in Mission burritos and tacos. Its name derives from chipotle, the Nahuatl name for a smoked and dried jalapeño chili pepper. The company has released a mission statement called Food with Integrity, which highlights its efforts in using naturally-grown ingredients, and serves more naturally raised meat than any other restaurant chain. Chipotle is one of the first chains of fast casual dining establishments. Founded by Steve Ells in July 1993, Chipotle had 16 restaurants (all in Colorado) when McDonald's Corporation became a major investor in 1998. By the time McDonald's fully divested itself from Chipotle in 2006, the chain had grown to over 500 locations. With more than 1,900 locations, Chipotle had a staff of more than 45,000 employees in 2015.
Last updated: March 10, 2020
Current Locations
2,500
Publicly Traded
HQ Address
610 Newport Center Drive, , 1300 Newport Beach, CA 92660
Website
Expansion Plans
Desired size
1,000 to 2,800 sq ft
12 Month Expansion Plans
180
24 Month Expansion Plans
180
Expanding in
Alabama, Alaska, Arizona, Arkansas, California, Colorado, Connecticut, Delaware, Florida, Georgia, Hawaii, Idaho, Illinois, Indiana, Iowa, Kansas, Kentucky, Louisiana, Maine, Maryland, Massachusetts, Michigan, Minnesota, Mississippi, Missouri, Montana, Nebraska, Nevada, New Hampshire, New Jersey, New Mexico, New York, North Carolina, North Dakota, Ohio, Oklahoma, Oregon, Pennsylvania, Rhode Island, South Carolina, South Dakota, Tennessee, Texas, Utah, Vermont, Virginia, Washington, Washington D.C., West Virginia, Wisconsin, Wyoming
Demographic Range
2 miles
Min Population
20,000
Min Income
$40,000
Demographic Notes
Prefers urban and suburban trade areas with strong residential and daytime population. Preferred generators: residential, office, retail, university, recreation, and hospitals.
Preferred Cotenants
Shopping Centers.
News Stories