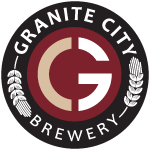 Granite City Food & Brewery
(Granite City Food & Brewery)
Actively expanding in all states
About the Company
Granite City has won awards nationwide for Best Restaurant, Best Brunch, Best Patio, Best Beer, Best Martini, Best Burger, and more, including the prestigious Nation's Restaurant News Hot Concept Winner. Granite City is passionate about creating fresh menu items from scratch and uses its patented brewing process to deliver the best brews. Granite City Food & Brewery is a polished casual American restaurant featuring fresh, high-quality menu items prepared from made-from-scratch recipes. Signature dishes include Grilled Chicken and Asparagus Linguini, Barramundi Buerre Blanc and a host of other innovative menu items, as well as burgers, flatbreads, salads and steaks.
Last updated: September 4, 2019
Current Locations
32
Publicly Traded
HQ Address
3600 American Blvd. W
Suite 400
Bloomington MN 55431
United States,
Website
Expansion Plans
Desired size
8,000 to 12,000 sq ft
12 Month Expansion Plans
10
24 Month Expansion Plans
20
Expanding in
Alabama, Alaska, Arizona, Arkansas, California, Colorado, Connecticut, Delaware, Florida, Georgia, Hawaii, Idaho, Illinois, Indiana, Iowa, Kansas, Kentucky, Louisiana, Maine, Maryland, Massachusetts, Michigan, Minnesota, Mississippi, Missouri, Montana, Nebraska, Nevada, New Hampshire, New Jersey, New Mexico, New York, North Carolina, North Dakota, Ohio, Oklahoma, Oregon, Pennsylvania, Rhode Island, South Carolina, South Dakota, Tennessee, Texas, Utah, Vermont, Virginia, Washington, Washington D.C., West Virginia, Wisconsin, Wyoming
Demographic Range
5 miles
Min Population
150,000
Min Income
$70,000
Demographic Notes
Customers ages 34-54.