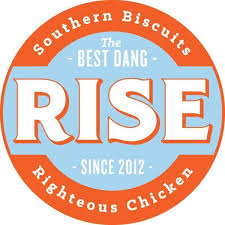 Rise Southern Biscuits & Righteous Chicken
(Rise Biscuits Donuts)
Actively expanding in South Carolina, Tennessee
About the Company
Serving the best biscuits, Righteous Chicken, Sweet Treats and Coffee throughout the Southeast and beyond! Order online or visit our restaurants. We opened Rise in Durham in 2012 with a simple vision…serve great food made with premium quality ingredients by people who care. In doing so, we pushed boundaries with flavor combinations and made breakfast fun again. Since then, we've expanded to seventeen locations in North Carolina, Kansas, Maryland, Virginia, Georgia, and Tennessee, with new stores on the way. We've also become a lunch destination. Rise serves Southern Biscuits, Righteous Chicken Sandwiches and Sweet Stuff all day long, waitstaff-free and with a swift service line. Our fluffy, buttermilk and Cheddar biscuits are made from scratch and filled with savory ingredients ranging from crispy bacon and country sausage to fried green tomatoes and our famous Righteous Chicken. What makes our chicken Righteous? It's tenderized, brined in buttermilk, fried to golden-brown perfection and then served on a biscuit, bun or as strips with your choice of toppings and sauces. No meal is complete without an order of Cheddar Tots, our signature cheesy, Idaho potato treats. Top off your Rise adventure with Counter Culture Coffee and Sweet Stuff including sweet strawberry or blueberry biscuits, cinnamon biscuit rolls or our apple fritter. Rise is about more than just crave-worthy food. We're indebted and committed to our customers, employees, and community. We are proud of our company culture and care deeply about the community that has grown up around our food. We love involving customers in the process, and hearing about what you like and don't like. Talk to us, we'll respond.
Last updated: October 28, 2019
Current Locations
17
Franchised
Website
Expansion Plans
Desired size
2,000 to 2,500 sq ft
12 Month Expansion Plans
1
24 Month Expansion Plans
2
Preferred Property Types
Specialty Strip
Expanding in
South Carolina, Tennessee
Got updates about Rise Southern Biscuits & Righteous Chicken? Let us know!