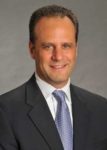 Allen Joffe
Managing Broker, Baum Realty Group, LLC
Last updated: February 27, 2020
Upgrade now to get Allen Joffe's full contact details!
Website
Office Address
1030 W. Chicago Avenue #200
Chicago IL 60642
Notes
Allen Joffe is both a principal and the managing broker of Baum Realty Group, LLC. Since joining the firm in 1993, Allen has provided clients with an unmatched knowledge of the Chicago area retail leasing business. He has successfully negotiated and managed lease transactions for more than 50 clients.
Represents