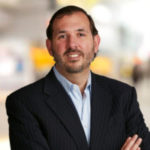 Dimitri Georgelakos
Principal Broker, KLNB Retail
Last updated: January 30, 2020
Upgrade now to get Dimitri Georgelakos's full contact details!
Website
Office Address
8027 Leesburg Pike #300
Vienna VA 22182
Notes
Dimitri joined KLNB in 2002 as a retail leasing specialist. At KLNB, Dimitri focuses his efforts on the leasing of new development and existing assets as well as tenant representation in the Washington, DC metro area. Throughout his 15 years with KLNB, He has consistently been a top producer at the firm and in recognition of his efforts, Dimitri was made a Principal and elected to serve as a member of the Executive Committee. He has been awarded the CoStar Retail Power Broker award multiple times for his retail leasing transaction volume. Prior to KLNB, Dimitri spent several years with The Rouse Company; a Columbia, Maryland based Real Estate Investment Trust.
Represents