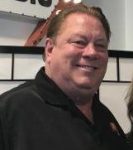 Jesse Potter
President, Jammers Holding, Inc.
Last updated: February 6, 2020
Upgrade now to get Jesse Potter's full contact details!
Website
Office Address
Atlanta GA
Notes
Jesse Potter currently owns the development rights for Marcos Pizza for ten counties in NW Georgia. There are nine stores open in the territory with one in under construction and one in development. Jesse joined the Marcos team in 2013 and has achieved a variety accomplishments including Impact Person of the year in 2014, the first and third highest individual unit opening volumes in 2015, AR highest market sales average in 2016 and fourth highest AR market sales in 2017.
Represents