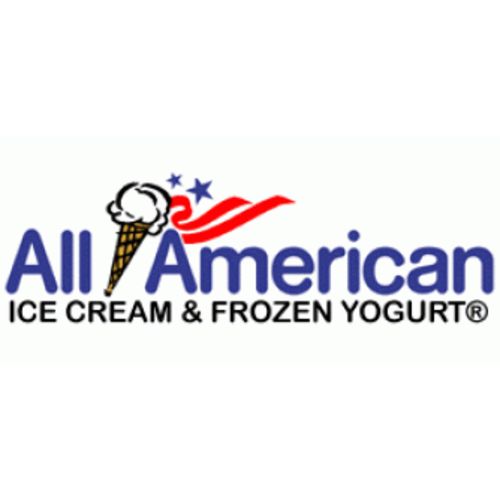 All American Ice Cream & Frozen Yogurt Shops
Actively expanding in Alabama, Arizona, Arkansas, California, Colorado, Connecticut, Delaware, Florida, Georgia, Hawaii, Idaho, Illinois, Indiana, Iowa, Kansas, Kentucky, Louisiana, Maine, Maryland, Massachusetts, Michigan, Minnesota, Mississippi, Missouri, Montana, Nebraska, Nevada, New Hampshire, New Jersey, New Mexico, New York, North Carolina, North Dakota, Ohio, Oklahoma, Oregon, Pennsylvania, Rhode Island, South Carolina, South Dakota, Tennessee, Texas, Utah, Vermont, Virginia, Washington, Washington D.C., West Virginia, Wisconsin, Wyoming
About the Company
An All American shop is a low-stress alternative to the typical restaurant and, is ideal as a family owned business or for the executive entrepreneur who desires to manage multiple stores. All American Ice Cream & Frozen Yogurt Shops® are located in regional shopping malls, neighborhood strip centers and specialty retail locations. Our stores have a bright and contemporary design scheme that attracts and maintains a wide and varied customer base.
Last updated: June 3, 2019
Current Locations
18
HQ Address
1201 SW 12th Ave Ste 415, Portland, OR 97205-2031,
HQ Phone
(800) 311-3930
Website
Expansion Plans
Desired size
450 to 4,000 sq ft
Expanding in
Alabama, Arizona, Arkansas, California, Colorado, Connecticut, Delaware, Florida, Georgia, Hawaii, Idaho, Illinois, Indiana, Iowa, Kansas, Kentucky, Louisiana, Maine, Maryland, Massachusetts, Michigan, Minnesota, Mississippi, Missouri, Montana, Nebraska, Nevada, New Hampshire, New Jersey, New Mexico, New York, North Carolina, North Dakota, Ohio, Oklahoma, Oregon, Pennsylvania, Rhode Island, South Carolina, South Dakota, Tennessee, Texas, Utah, Vermont, Virginia, Washington, Washington D.C., West Virginia, Wisconsin, Wyoming
Got updates about All American Ice Cream & Frozen Yogurt Shops? Let us know!