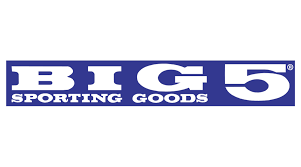 Big 5 Sporting Goods
(Big 5 Corporation)
Actively expanding in Arizona, California, Colorado, Georgia, Idaho, Illinois, Indiana, Montana, Nevada, New Mexico, Oregon, Texas, Utah, Virginia, Washington, Washington D.C., Wyoming
About the Company
Big 5 Sporting Goods is one of America's top retailers of name brand sporting goods and accessories. Big 5 operates full-line sporting goods stores offering a comprehensive selection of top brand name merchandise. Products include athletic shoes, apparel and accessories, as well as a broad selection of outdoor and athletic equipment for team sports, fitness, camping, hunting, fishing, tennis, golf, winter and summer recreation and roller sports. Stores are spacious and well-stocked. Net sales for 2018 were approximately $1 billion.
Last updated: February 11, 2020
Current Locations
433
Publicly Traded
HQ Address
2525 E El Segundo Blvd, El Segundo, CA 90245,
HQ Phone
310-536-0611
HQ Fax
310-297-7645
Website
Expansion Plans
Desired size
8,000 to 20,000 sq ft
12 Month Expansion Plans
10
24 Month Expansion Plans
20
Preferred Property Types
Neighborhood or Community Center, Freestanding
Currently in
Arizona, California, Colorado, Idaho, Nevada, New Mexico, Oregon, Texas, Utah, Washington, Wyoming
Expanding in
Arizona, California, Colorado, Georgia, Idaho, Illinois, Indiana, Montana, Nevada, New Mexico, Oregon, Texas, Utah, Virginia, Washington, Washington D.C., Wyoming
Min Population
25,000
Traffic Count
25,000
Demographic Notes
High Visibility: Heavy Traffic.
Preferred Cotenants
Prefers locations in multi-store shopping centers or free-standing street locations.