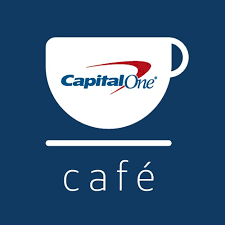 Capital One Cafe
(Capital One Financial Corporation)
Actively expanding in Alabama, Alaska, Arizona, Arkansas, California, Colorado, Florida, Georgia, Hawaii, Idaho, Illinois, Indiana, Iowa, Kansas, Kentucky, Louisiana, Michigan, Minnesota, Mississippi, Missouri, Montana, Nebraska, Nevada, New Mexico, North Carolina, North Dakota, Ohio, Oklahoma, Oregon, South Carolina, South Dakota, Tennessee, Texas, Utah, Washington, West Virginia, Wisconsin, Wyoming
About the Company
Capital One's latest venture, the Capital One Café, is a new effort to market to millennials that appears aimed at bridging this disconnect — a move to win over their hard-won loyalty and lay a new foundation for relationship-based banking.
Last updated: October 17, 2019
Current Locations
29
Publicly Traded
HQ Address
1680 Capital One Drive
McLean VA 22102-3491
United States,
Expansion Plans
Desired size
3,000 to 6,000 sq ft
12 Month Expansion Plans
2
24 Month Expansion Plans
4
Expanding in
Alabama, Alaska, Arizona, Arkansas, California, Colorado, Florida, Georgia, Hawaii, Idaho, Illinois, Indiana, Iowa, Kansas, Kentucky, Louisiana, Michigan, Minnesota, Mississippi, Missouri, Montana, Nebraska, Nevada, New Mexico, North Carolina, North Dakota, Ohio, Oklahoma, Oregon, South Carolina, South Dakota, Tennessee, Texas, Utah, Washington, West Virginia, Wisconsin, Wyoming
Demographic Notes
Dense, Urban core areas. Good daytime/evening traffic generators. Millennial and high street retailers.