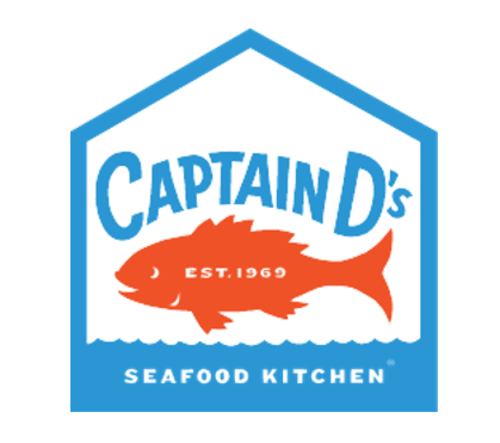 Captain D's
(Captain D's, LLC)
Actively expanding in Colorado, Florida, Georgia, Illinois, Indiana, Iowa, Kansas, Michigan, Minnesota, Missouri, Nebraska, North Dakota, Ohio, South Dakota, Texas, Utah, Virginia, Washington D.C., Wisconsin
About the Company
Captain D's is a U.S.-based chain of fast casual seafood restaurants specializing in seafood and their first one opening in Donelson, Tennessee, on August 15, 1969. Currently expanding its brand footprint throughout the Southeast, Midwest and Utah.
Last updated: January 30, 2020
Current Locations
500
Franchised
HQ Address
624 Grassmere Park Drive, Nashville, TN, 37211, , 30
Website
Expansion Plans
Desired size
2,000 to 3,400 sq ft
12 Month Expansion Plans
25
24 Month Expansion Plans
50
Preferred Property Types
Strip Center, Neighborhood or Community Center
Expanding in
Colorado, Florida, Georgia, Illinois, Indiana, Iowa, Kansas, Michigan, Minnesota, Missouri, Nebraska, North Dakota, Ohio, South Dakota, Texas, Utah, Virginia, Washington D.C., Wisconsin
Demographic Range
3 miles
Min Population
25,000
Min Income
$30,000
Traffic Count
20,000
Demographic Notes
Median age 30-40: at least 70% of population with high school diploma, and at least 30% of the population employed in clerical or service categories. Prefers an average household size of 2.5 or greater, with the median income per household of $30,000 minimum.
Preferred Cotenants
Prefers locations in close proximity to traffic generators: shopping centers, destination retailers (Wal-Mart, Lowe's, Target), universities, county seats, etc. Also requires local employment generators: hospitals, office complexes, industrial parks, etc.
News Stories