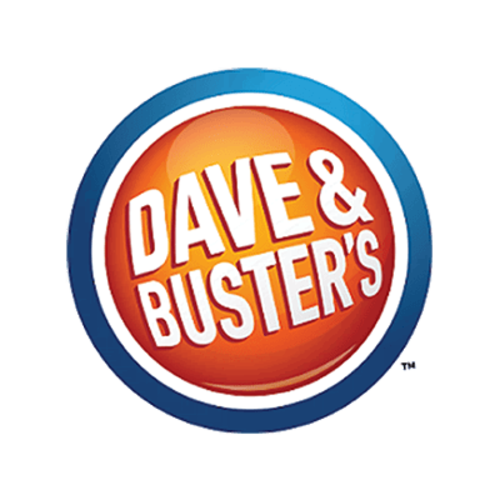 Dave & Buster's
(Dave & Buster's, Inc.)
Actively expanding in all states
About the Company
Dave & Buster's is an American restaurant and entertainment business headquartered in Dallas. Each Dave & Buster's has a full-service restaurant and a video arcade. As of May 2019, the company has 128 locations in the United States and Canada, with more announced to open in the near future.
Last updated: February 4, 2020
Current Locations
120
HQ Address
2481 Manana Drive, Dallas, TX 75220
Website
Expansion Plans
Desired size
15,000 to 40,000 sq ft
12 Month Expansion Plans
5
24 Month Expansion Plans
10
Preferred Property Types
Regional Mall
Expanding in
Alabama, Alaska, Arizona, Arkansas, California, Colorado, Connecticut, Delaware, Florida, Georgia, Hawaii, Idaho, Illinois, Indiana, Iowa, Kansas, Kentucky, Louisiana, Maine, Maryland, Massachusetts, Michigan, Minnesota, Mississippi, Missouri, Montana, Nebraska, Nevada, New Hampshire, New Jersey, New Mexico, New York, North Carolina, North Dakota, Ohio, Oklahoma, Oregon, Pennsylvania, Rhode Island, South Carolina, South Dakota, Tennessee, Texas, Utah, Vermont, Virginia, Washington, Washington D.C., West Virginia, Wisconsin, Wyoming
Demographic Range
10 miles
Min Population
500,000
Demographic Notes
Dave & Buster's has a broad appeal for both single and married men and women as well as families. Dave & Buster's attracts casual plus dining customers that are fun-seekers and like to spend time with friends and family. 100,000 daytime population (3 miles): 500,000 population (10 miles).
Preferred Cotenants
Prefers 1,000,000 SF retail within a 1/4 mile.