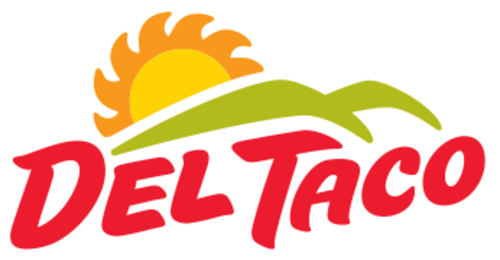 Del Taco
(Del Taco Restaurants, Inc.)
Actively expanding in Arizona, California, Florida, Georgia, South Carolina, Tennessee, Washington
About the Company
Founded in 1964, Del Taco (NASDAQ: TACO) offers a variety of both Mexican and American foods such as burritos and fries, prepared fresh in every restaurant's working kitchen with the value and convenience of a drive-thru. Del Taco's menu items are made with quality ingredients like fresh grilled chicken and carne asada steak, hand-sliced avocado, hand-grated cheddar cheese, slow-cooked beans made from scratch, and creamy Queso Blanco. Del Taco serves more than three million guests each week at its more than 580 restaurants across 15 states.
Last updated: March 18, 2020
Current Locations
580
Franchised
HQ Address
25521 Commercentre Drive #200, Lake Forest, CA 92630
HQ Phone
(949) 462-7379
Company Email
Website
Expansion Plans
Desired size
1,500 to 3,200 sq ft
12 Month Expansion Plans
15
24 Month Expansion Plans
30
Preferred Property Types
Strip Center, Strip Center (Mall adjacent), Neighborhood or Community Center, Freestanding, Pad, Lifestyle Center, Outlet Mall, Power Center, Regional Mall, Specialty Strip, Mixed Use, City Center, Street Storefront, Medical Center, Campus Site
Expanding in
Arizona, California, Florida, Georgia, South Carolina, Tennessee, Washington
Min Population
35,000
Min Income
$40,000
Traffic Count
25,000
Demographic Notes
HH Income: $40000-$10000. Age groups: Prefer areas with higher concentrations of 18-49. Traffic: Minimum 25,000+ cars per day at intersection. Ethnicity: menu appeals to broad consumer audience. Population: 35,000+ residential population with 10,000+ daytime population in primary trade area, 25000 w/in 7 minutes.