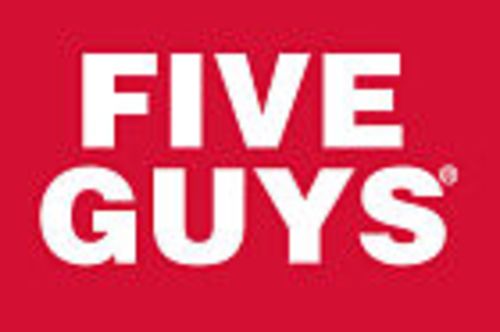 Five Guys Famous Burgers and Fries
(Five Guys Enterprises, LLC)
Actively expanding in all states
About the Company
Five Guys has been a Washington, DC area favorite since 1986. The little burger joint quickly developed a cult-like following. Press paid attention. Customers voted the burger"#1" in the metro area. Five Guys was The Place to get a fresh, juicy burger with all the toppings you could stuff between fresh-baked buns. Early in 2003 Five Guys began offering franchise opportunities. In just under 18 months, Five Guys Enterprises sold options for over 300 units. The overwhelming success of franchising a local restaurant made national news with articles in trade publications such as Nation's Restaurant News, Restaurant Business Magazine, and the Franchise Times. Now, 30 years after Five Guys first opened, there are over 1,000 locations nationwide and over 1500 units in development. Five Guys continues to receive media attention and has grown a cult-like following around the world.
Last updated: March 6, 2020
Current Locations
1,500
Franchised
HQ Address
10718 Richmond Highway, , Lorton , VA 22079
Website
Expansion Plans
Desired size
1,800 to 3,500 sq ft
12 Month Expansion Plans
3
24 Month Expansion Plans
6
Preferred Property Types
Lifestyle Center, Specialty Strip, Medical Center, Campus Site
Expanding in
Alabama, Alaska, Arizona, Arkansas, California, Colorado, Connecticut, Delaware, Florida, Georgia, Hawaii, Idaho, Illinois, Indiana, Iowa, Kansas, Kentucky, Louisiana, Maine, Maryland, Massachusetts, Michigan, Minnesota, Mississippi, Missouri, Montana, Nebraska, Nevada, New Hampshire, New Jersey, New Mexico, New York, North Carolina, North Dakota, Ohio, Oklahoma, Oregon, Pennsylvania, Rhode Island, South Carolina, South Dakota, Tennessee, Texas, Utah, Vermont, Virginia, Washington, Washington D.C., West Virginia, Wisconsin, Wyoming
Demographic Range
1 miles
Min Population
10,000
Min Income
$60,000
Demographic Notes
Daytime Pop: 8000/10000/20000 in 1/2/3 mile radius. Residential Pop: 10000/25000/50000 in 1/2/3 mile radius.
Preferred Cotenants
Target, grocery centers, theaters, medical facilities, educational facilities, community centers, lifestyle centers and other high-quality restaurants.
Got updates about Five Guys Famous Burgers and Fries? Let us know!