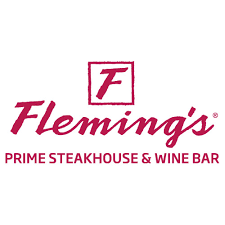 Fleming's Prime Steakhouse & Wine Bar
(Bloomin' Brands, Inc.)
Actively expanding in Alabama, Arkansas, California, Connecticut, Delaware, Florida, Georgia, Hawaii, Illinois, Indiana, Iowa, Kansas, Kentucky, Maine, Maryland, Massachusetts, Michigan, Minnesota, Missouri, Nebraska, New Hampshire, New Jersey, New York, North Carolina, North Dakota, Ohio, Oklahoma, Pennsylvania, Rhode Island, South Carolina, South Dakota, Tennessee, Vermont, Virginia, Washington D.C., West Virginia, Wisconsin
About the Company
Fleming's Prime Steakhouse & Wine Bar is an American steakhouse restaurant chain owned and operated by Bloomin' Brands, headquartered in Tampa, Florida. Founded in 1998 by Paul Fleming and Bill Allen, Fleming's first location was in Newport Beach, California.
Last updated: March 18, 2020
Current Locations
70
Publicly Traded
HQ Address
2202 North West Shore Boulevard
Suite 500
Tampa FL 33607-5747
United States,
Expansion Plans
Desired size
6,200 to 8,200 sq ft
12 Month Expansion Plans
5
24 Month Expansion Plans
10
Preferred Property Types
Lifestyle Center, Power Center, Regional Mall, Specialty Strip, Office Building, Hotel Lobby
Expanding in
Alabama, Arkansas, California, Connecticut, Delaware, Florida, Georgia, Hawaii, Illinois, Indiana, Iowa, Kansas, Kentucky, Maine, Maryland, Massachusetts, Michigan, Minnesota, Missouri, Nebraska, New Hampshire, New Jersey, New York, North Carolina, North Dakota, Ohio, Oklahoma, Pennsylvania, Rhode Island, South Carolina, South Dakota, Tennessee, Vermont, Virginia, Washington D.C., West Virginia, Wisconsin
Traffic Count
30,000
Preferred Cotenants
Better quality retailers, grocery stores, specialty retailers, books stores, and other restaurants.
Got updates about Fleming's Prime Steakhouse & Wine Bar? Let us know!