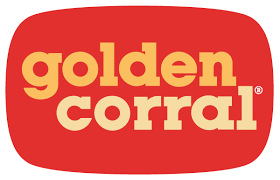 Golden Corral
Actively expanding in Alabama, Connecticut, Florida, Kansas, Maine, Massachusetts, New Hampshire, New Jersey, Rhode Island, Texas
About the Company
Golden Corral's legendary, endless buffet with a variety of delicious familiar favorites and new menu offerings for breakfast, lunch and dinner.
Last updated: September 23, 2019
Current Locations
490
Franchised
HQ Address
5151 Glenwood Avenue
Raleigh NC 27612, , 300
Expansion Plans
Desired size
5,500 to 14,000 sq ft
12 Month Expansion Plans
10
24 Month Expansion Plans
20
Preferred Property Types
Regional Mall
Expanding in
Alabama, Connecticut, Florida, Kansas, Maine, Massachusetts, New Hampshire, New Jersey, Rhode Island, Texas
Demographic Range
5 miles
Min Population
110,000
Min Income
$45,000
Traffic Count
30,000
Demographic Notes
High volume traffic and pop.
Preferred Cotenants
Adjacent to Big Box Retailers. Near value retailers.