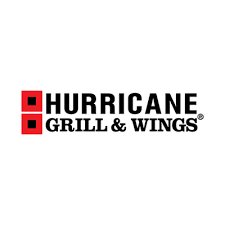 Hurricane Grill and Wings
(Hurricane AMT, LLC)
Actively expanding in Arizona, California, Colorado, Florida, Georgia, Illinois, Indiana, Maryland, Missouri, Nevada, Oregon, Texas, Virginia, Washington D.C., West Virginia
About the Company
Hurricane Grill & Wings is a restaurant based in Florida with 71 locations open in 15 U.S. states. It serves more than 30 signature sauces and rubs, and is also known for its jumbo fresh wings and laid-back tropical vibe.
Last updated: September 4, 2019
Current Locations
55
Franchised
Publicly Traded
HQ Address
1800 Okeechobee Boulevard, West Palm Beach, FL,
Website
Expansion Plans
Desired size
1,400 to 5,000 sq ft
12 Month Expansion Plans
50
24 Month Expansion Plans
100
Expanding in
Arizona, California, Colorado, Florida, Georgia, Illinois, Indiana, Maryland, Missouri, Nevada, Oregon, Texas, Virginia, Washington D.C., West Virginia
Demographic Range
3 miles
Min Population
60,000
Traffic Count
25,000
Demographic Notes
Total employment population should meet or exceed 25,000 employees. Median HH Income should meet or exceed $60,000 within a 4 minute drive. Media age of customers is 18-55, with a preference for families.
Preferred Cotenants
Strong Neighborhoods with Major Grocers, Drug Stores, Home Improvement, Office Supply, Schools, Parks, Gyms, Places of Worship.