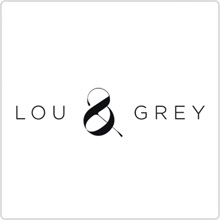 Lou & Grey
(Ascena Retail Group Inc.)
Actively expanding in Alabama, Arizona, Arkansas, California, Colorado, Connecticut, Georgia, Hawaii, Idaho, Illinois, Indiana, Iowa, Kansas, Kentucky, Louisiana, Maine, Maryland, Massachusetts, Michigan, Minnesota, Mississippi, Missouri, Montana, Nebraska, Nevada, New Hampshire, New Mexico, New York, North Carolina, North Dakota, Ohio, Oklahoma, Oregon, Pennsylvania, Rhode Island, South Carolina, South Dakota, Tennessee, Texas, Utah, Vermont, Virginia, Washington, Washington D.C., West Virginia, Wisconsin, Wyoming
About the Company
Lou & Grey is style + comfort, inspired. Shop women's clothing: tops, dresses, jeans, leggings & more.
Last updated: March 23, 2020
Current Locations
13
HQ Address
933 MacArthur Blvd, Mahwah, NJ 07430
Expansion Plans
Desired size
1,800 to 2,300 sq ft
12 Month Expansion Plans
2
24 Month Expansion Plans
4
Preferred Property Types
Lifestyle Center, Outlet Mall, Regional Mall, Specialty Strip
Expanding in
Alabama, Arizona, Arkansas, California, Colorado, Connecticut, Georgia, Hawaii, Idaho, Illinois, Indiana, Iowa, Kansas, Kentucky, Louisiana, Maine, Maryland, Massachusetts, Michigan, Minnesota, Mississippi, Missouri, Montana, Nebraska, Nevada, New Hampshire, New Mexico, New York, North Carolina, North Dakota, Ohio, Oklahoma, Oregon, Pennsylvania, Rhode Island, South Carolina, South Dakota, Tennessee, Texas, Utah, Vermont, Virginia, Washington, Washington D.C., West Virginia, Wisconsin, Wyoming
Min Income
$150,000
Preferred Cotenants
Department stores, fashion specialty apparel, complementary non-apparel specialty retailers including accessories, footwear, home, and cosmetics.