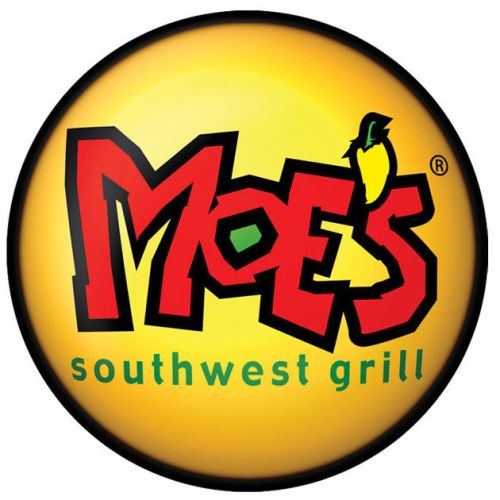 Moe's Southwest Grill
(Focus Brands, Inc.)
Actively expanding in Alabama, Arizona, California, Colorado, Connecticut, Delaware, Florida, Georgia, Illinois, Indiana, Kansas, Kentucky, Louisiana, Maine, Maryland, Massachusetts, Michigan, Minnesota, Mississippi, Missouri, Montana, Nebraska, Nevada, New Hampshire, New Jersey, New Mexico, New York, North Carolina, North Dakota, Ohio, Oklahoma, Pennsylvania, Rhode Island, South Carolina, South Dakota, Tennessee, Texas, Utah, Vermont, Virginia, Washington, Washington D.C., West Virginia, Wyoming
About the Company
Counter-serve chain dishing up Southwestern staples from burritos to nachos in lively environs.
Last updated: September 4, 2019
Current Locations
700
Franchised
HQ Address
5620 Glenridge Drive, Atlanta, GA, 30342,
Website
Expansion Plans
Desired size
2,000 to 3,000 sq ft
12 Month Expansion Plans
50
24 Month Expansion Plans
100
Preferred Property Types
Freestanding
Expanding in
Alabama, Arizona, California, Colorado, Connecticut, Delaware, Florida, Georgia, Illinois, Indiana, Kansas, Kentucky, Louisiana, Maine, Maryland, Massachusetts, Michigan, Minnesota, Mississippi, Missouri, Montana, Nebraska, Nevada, New Hampshire, New Jersey, New Mexico, New York, North Carolina, North Dakota, Ohio, Oklahoma, Pennsylvania, Rhode Island, South Carolina, South Dakota, Tennessee, Texas, Utah, Vermont, Virginia, Washington, Washington D.C., West Virginia, Wyoming
Demographic Range
2 miles
Min Population
30,000
Min Income
$50,000
Demographic Notes
Minimum workplace population of 15,000. Median age of 40 and below. Household size of 2.5+. Strong daytime population.
Preferred Cotenants
Strong activity such as schools, theaters, parks, childcare, hospitals and sports facilities.