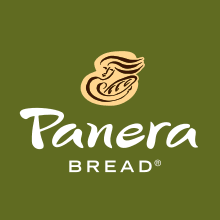 Panera Bread
Actively expanding in all states
About the Company
We are Panera Bread. And we believe that good food, food you can feel good about, can bring out the best in all of us. Food served in a warm, welcoming environment, by people who care. To us, that's good eating and that's why we're here.
Last updated: March 17, 2020
Current Locations
2,100
Franchised
Publicly Traded
HQ Address
3630 South Geyer Road, , 100 St. Louis, MO 63127
Website
Expansion Plans
Desired size
3,500 to 5,600 sq ft
12 Month Expansion Plans
100
24 Month Expansion Plans
200
Preferred Property Types
Strip Center, Neighborhood or Community Center, Freestanding, Lifestyle Center, Power Center, Regional Mall, Mixed Use, City Center, Street Storefront
Expanding in
Alabama, Alaska, Arizona, Arkansas, California, Colorado, Connecticut, Delaware, Florida, Georgia, Hawaii, Idaho, Illinois, Indiana, Iowa, Kansas, Kentucky, Louisiana, Maine, Maryland, Massachusetts, Michigan, Minnesota, Mississippi, Missouri, Montana, Nebraska, Nevada, New Hampshire, New Jersey, New Mexico, New York, North Carolina, North Dakota, Ohio, Oklahoma, Oregon, Pennsylvania, Rhode Island, South Carolina, South Dakota, Tennessee, Texas, Utah, Vermont, Virginia, Washington, Washington D.C., West Virginia, Wisconsin, Wyoming
Demographic Range
2 miles
Min Population
30,000
Min Income
$50,000
Traffic Count
20,000
Demographic Notes
Within a 1-mile radius: 10,000+ population (6,000+ daytime population).
Preferred Cotenants
Discount department stores such as Target and Super Wal-Mart. Supermarket/drug centers, hospitals and/or universities. Large format apparel such as Kohl's, Mervyns and Old Navy. Large format books such as Barnes & Noble and Borders. Hospitals and / or Universities.