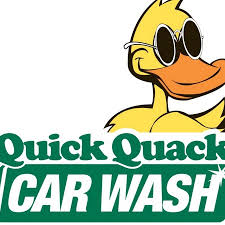 Quick Quack Express Wash
(Quick Quack Express Wash)
Actively expanding in all states
About the Company
Quick Quack is the sixth largest express car wash provider in the U.S. Stores in 6 states, and best known for unlimited car wash memberships, free vacuums and exceptional customer service from sharp looking, tie-clad team members. Experienced leadership team with internal R&D, maintenance and installation.
Last updated: September 23, 2019
Current Locations
50
Publicly Traded
HQ Address
1380 Lead Hill Blvd.
Suite 260
Roseville CA 95661
United States,
Expansion Plans
Desired size
3,000 to 3,600 sq ft
12 Month Expansion Plans
1
24 Month Expansion Plans
2
Currently in
Arizona, California, Colorado, Nevada, Texas, Utah
Expanding in
Alabama, Alaska, Arizona, Arkansas, California, Colorado, Connecticut, Delaware, Florida, Georgia, Hawaii, Idaho, Illinois, Indiana, Iowa, Kansas, Kentucky, Louisiana, Maine, Maryland, Massachusetts, Michigan, Minnesota, Mississippi, Missouri, Montana, Nebraska, Nevada, New Hampshire, New Jersey, New Mexico, New York, North Carolina, North Dakota, Ohio, Oklahoma, Oregon, Pennsylvania, Rhode Island, South Carolina, South Dakota, Tennessee, Texas, Utah, Vermont, Virginia, Washington, Washington D.C., West Virginia, Wisconsin, Wyoming
Traffic Count
35,000
Demographic Notes
High traffic generator (500-800 daily visits).