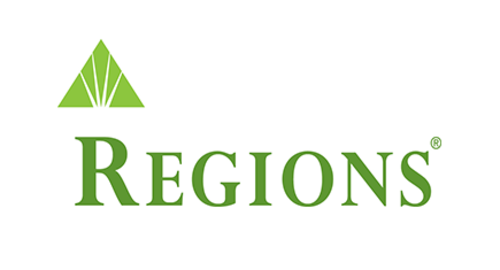 Regions Bank
(Regions Financial Corporation)
Actively expanding in Alabama, Arkansas, Florida, Georgia, Illinois, Indiana, Iowa, Kentucky, Louisiana, Mississippi, Missouri, North Carolina, South Carolina, Tennessee, Texas
About the Company
Regions Financial Corporation is a bank holding company headquartered in the Regions Center in Birmingham, Alabama. The company provides retail banking and commercial banking, trust, stockbrokerage, and mortgage services.
Last updated: October 28, 2019
Current Locations
1,500
Publicly Traded
HQ Address
1900 Fifth Avenue North, Birmingham AL 35203, United States,
Website
Expansion Plans
Desired size
3,000 to 3,800 sq ft
Expanding in
Alabama, Arkansas, Florida, Georgia, Illinois, Indiana, Iowa, Kentucky, Louisiana, Mississippi, Missouri, North Carolina, South Carolina, Tennessee, Texas
Demographic Range
1 miles
Min Population
60,000
Preferred Cotenants
Adjacent to major retail, i.e., Publix, Home Depot, Lowes, Wal-Mart, Target, etc.