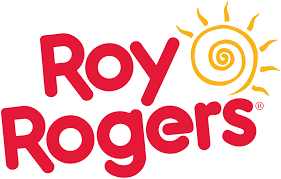 Roy Rogers
(Roy Rogers Franchise Company, LLC)
Actively expanding in California, Delaware, Hawaii, Illinois, Indiana, Maryland, Michigan, Minnesota, New Jersey, New York, North Dakota, Oregon, Pennsylvania, Rhode Island, South Dakota, Virginia, Washington, Washington D.C., West Virginia, Wisconsin
About the Company
Roy Rogers tradition is serving an appealing choice of menu items, made with the best ingredients, and served in a comfortable, enjoyable setting. The concept of Roy Rogers is a simple one. Offer people a choice of the things they like most: hamburgers, roast beef sandwiches and fried chicken.
Last updated: October 28, 2019
Current Locations
53
Franchised
HQ Address
4991 New Design Road, , Suite 109 Frederick, MD 21703
Website
Expansion Plans
Desired size
2,500 to 3,500 sq ft
12 Month Expansion Plans
2
24 Month Expansion Plans
4
Preferred Property Types
Outlet Mall, Power Center, Regional Mall
Expanding in
California, Delaware, Hawaii, Illinois, Indiana, Maryland, Michigan, Minnesota, New Jersey, New York, North Dakota, Oregon, Pennsylvania, Rhode Island, South Dakota, Virginia, Washington, Washington D.C., West Virginia, Wisconsin
Min Population
30,000
Min Income
$60,000
Traffic Count
30,000
Demographic Notes
Age 25-54. Average household income: $60,000. 18,000 daytime population. 60% Owner occupied housing units. 30,000 residents within immediate trade area - EXCEPTION: Freeway or Interstate locations. 30,000 vehicles per day.
Preferred Cotenants
Mixture of industrial, office, retail, commercial, residential. schools, and recreation, yielding strong breakfast, lunch and dinner business opportunities. Lunch business generally ""50%of total company sales. Important that location is near and accessible to generators.