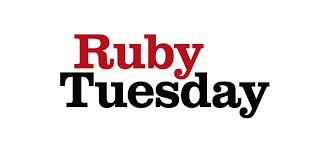 Ruby Tuesday
(Ruby Tuesday, Inc.)
Actively expanding in Alabama, Florida, Georgia, Kentucky, Louisiana, Mississippi, New York, North Carolina, Ohio, Pennsylvania, South Carolina, Tennessee, Virginia, Washington D.C., West Virginia
About the Company
Ruby Tuesday Inc. is an American multinational foodservice retailer that owns, operates, and franchises Ruby Tuesday restaurants. The concept was started in 1972 by Samuel E. Beall III. The corporation was formed in 1996 as a reincorporation of Morrison Restaurants Inc.
Last updated: February 4, 2020
Current Locations
540
Franchised
Publicly Traded
HQ Address
333 East Broadway Ave, Maryville , TN 37801
Website
Expansion Plans
Desired size
4,600 to 5,400 sq ft
12 Month Expansion Plans
2
24 Month Expansion Plans
4
Preferred Property Types
Power Center, Regional Mall, Specialty Strip
Expanding in
Alabama, Florida, Georgia, Kentucky, Louisiana, Mississippi, New York, North Carolina, Ohio, Pennsylvania, South Carolina, Tennessee, Virginia, Washington D.C., West Virginia
Demographic Range
5 miles
Min Population
50,000
Traffic Count
25,000
Demographic Notes
3 mile demographics: 25,000 population in 3 miles. Household income of $30,000 - $50,000.