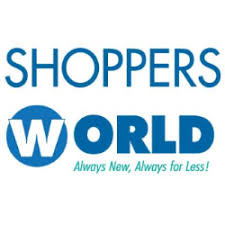 Shoppers World Department Store
(SW Group LLC)
Actively expanding in Connecticut, Illinois, Maine, Massachusetts, Missouri, New Hampshire, Rhode Island, Vermont, Virginia
About the Company
Shoppers World opened its first doors in Baltimore, Maryland during the 1930's. Founder Sam Dushey Sr. named it "The Mart" and focused on being the first discounter of childrens' wear in the greater Baltimore Area. In 1950's, the Dushey Family opened "The Pitkin Bargain Center" in downtown Brooklyn. It wasn't until 1972 that the "Shoppers World" name was born when the Elizabeth, New Jersey Store opened bearing the name. The opening of the Elizabeth store not only brought a new name, but also an expanded product line that included women's apparel. The store remains open today as the original flagship store. In the mid 1980's "The Mart" store was sold and the SW Group concentrated on expanding product assortments in their existing stores to include menswear, home furnishings, linens, and gift items. In the 1990's, Shoppers World added an additional 4 stores to their existing 5 stores throughout New York & New Jersey.
Last updated: November 1, 2019
Current Locations
34
HQ Address
9 East 40th Street, New York , NY 10016
Expansion Plans
Desired size
30,000 to 80,000 sq ft
12 Month Expansion Plans
2
24 Month Expansion Plans
4
Preferred Property Types
Lifestyle Center, Power Center, Regional Mall, Specialty Strip
Expanding in
Connecticut, Illinois, Maine, Massachusetts, Missouri, New Hampshire, Rhode Island, Vermont, Virginia
Min Population
175,000
Min Income
$50,000
Demographic Notes
Mile Range 5 Miles, Minimum required population 175,000, Average HH income $50,000-$70,000, Heavy African American/Hispanic and/or blue collar.
Got updates about Shoppers World Department Store? Let us know!