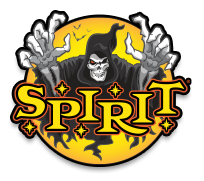 Spirit Halloween Superstores
(Spencer Gifts, LLC)
Actively expanding in all states
About the Company
Conjuring up a little Halloween magic, Spirit Halloween can take your vacant store and – presto! – make it "So Much Fun, It's Scary! Our stores are the most comprehensive one-stop shop for everything Halloween. Through our vast merchandise assortment and memorable visual presentation, Spirit stores provide a truly impressive, unique and unforgettable shopping experience. In addition to being a fun and interactive event for shoppers, the locations offer an industry leading selection of costumes and accessories for infants/toddlers, children, tweens, teens and adults. Spirit also offers a broad assortment of décor and party goods to complete the Halloween story. As an added extra, Spirit's talented product development team scares up a huge number of items that are EXCLUSIVE – found ONLY at Spirit Halloween. First store opened 1983, located in all 50 states and Canada.
Last updated: March 9, 2020
Current Locations
1,300
HQ Address
6826 Black House Pike, Egg Harbor Township, NJ 08234
Website
Expansion Plans
Desired size
3,000 to 10,000 sq ft
12 Month Expansion Plans
500
24 Month Expansion Plans
500
Preferred Property Types
Strip Center, Strip Center (Mall adjacent), Freestanding, Power Center, Specialty Strip
Expanding in
Alabama, Alaska, Arizona, Arkansas, California, Colorado, Connecticut, Delaware, Florida, Georgia, Hawaii, Idaho, Illinois, Indiana, Iowa, Kansas, Kentucky, Louisiana, Maine, Maryland, Massachusetts, Michigan, Minnesota, Mississippi, Missouri, Montana, Nebraska, Nevada, New Hampshire, New Jersey, New Mexico, New York, North Carolina, North Dakota, Ohio, Oklahoma, Oregon, Pennsylvania, Rhode Island, South Carolina, South Dakota, Tennessee, Texas, Utah, Vermont, Virginia, Washington, Washington D.C., West Virginia, Wisconsin, Wyoming
Demographic Range
5 miles
Min Population
35,000
Traffic Count
25,000
Demographic Notes
Population: 35k+ w/in 3-5 miles.
Preferred Cotenants
Target, Wal*Mart, Best Buy, Toys R Us, and Home Depot.
Got updates about Spirit Halloween Superstores? Let us know!