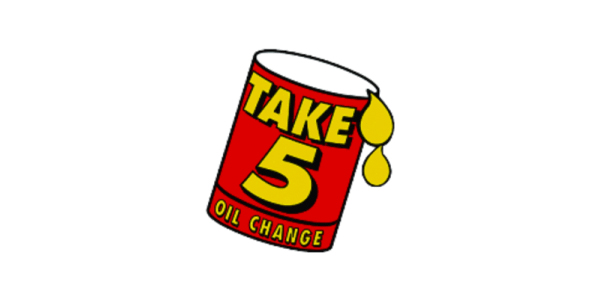 Take 5 Oil Change
(Driven Brands, Inc.)
Actively expanding in Alabama, Florida, Georgia, Louisiana, Mississippi, North Carolina, Oklahoma, South Carolina, Tennessee, Texas, Virginia
About the Company
Our mission at Take 5 Oil Change is to set service standards and achieve customer satisfaction standards that exceed every customer's expectation by maintaining the highest possible level of employee training and development. We first opened in Metairie, Louisiana in 1984 and we currently own and operate locations in 18 states across the country!
Last updated: February 10, 2020
Current Locations
300
HQ Address
440 S. Church St. , , Suite 700 Charlotte , NC 28202
Expansion Plans
Desired size
1,200 to 35,000 sq ft
12 Month Expansion Plans
20
24 Month Expansion Plans
40
Preferred Property Types
Lifestyle Center, Power Center, Regional Mall
Expanding in
Alabama, Florida, Georgia, Louisiana, Mississippi, North Carolina, Oklahoma, South Carolina, Tennessee, Texas, Virginia
Demographic Range
3 miles
Min Population
40,000
Min Income
$35,000
Traffic Count
30,000
Preferred Cotenants
Big Box Retailers and Grocers.
News Stories