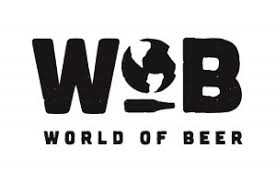 World of Beer
(World of Beer Franchising, Inc.)
Actively expanding in all states
About the Company
World of Beer is leading the unique, exploding cultural phenomenon of Craft Taverns. At our core is, of course, beer. We hunt and gather beers from around the world, offering the best craft variety on the planet to the beer aficionado and casual beer fan alike.
Last updated: September 4, 2019
Current Locations
55
Franchised
HQ Address
10910 Sheldon Road, Tampa, FL, 33626,
Expansion Plans
Desired size
3,800 to 6,000 sq ft
12 Month Expansion Plans
10
24 Month Expansion Plans
20
Preferred Property Types
Regional Mall
Expanding in
Alabama, Alaska, Arizona, Arkansas, California, Colorado, Connecticut, Delaware, Florida, Georgia, Hawaii, Idaho, Illinois, Indiana, Iowa, Kansas, Kentucky, Louisiana, Maine, Maryland, Massachusetts, Michigan, Minnesota, Mississippi, Missouri, Montana, Nebraska, Nevada, New Hampshire, New Jersey, New Mexico, New York, North Carolina, North Dakota, Ohio, Oklahoma, Oregon, Pennsylvania, Rhode Island, South Carolina, South Dakota, Tennessee, Texas, Utah, Vermont, Virginia, Washington, Washington D.C., West Virginia, Wisconsin, Wyoming
Demographic Range
3 miles
Min Population
75,000
Min Income
$80,000
Traffic Count
35,000
Preferred Cotenants
Upscale restaurants and entertainment concepts.